History of Schnell
Edit
The company Schnell started designing and manufacturing extravagant automobiles in the early 2000's. They are known for building cars that are unstoppable, and the competition is swept away by their performance. Schnell is not a production car company, as they only create specialty cars for executives of companies and other extremely wealthy individuals. The Prince of Dubai is a known customer and has many vehicles from Schnell. The companys name "Schnell" is German for "Fast".
2014 Schnell Entschukdigung 
Schnell Motors Corporation has outdone themselves with the new model.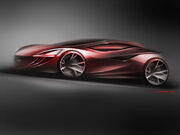 This is a new race car that is the fastest in the world. The company named the vehicle Entschuldigung (Translates to "Sorry") as a formal apology to all other car companies in the world that are competing against it. The Entschuldigung has a curb weight of 1821 lbs, being the lightest in its class. The engineers at Schnell put their minds together and made it also one of the best handling cars in the world. It has a coil over suspension that comes out of the factory with. The race car has a Twin-Turbo V10 which produces 604 HP and 582 tq. This strong motor is paired with a 10 speed dual clutch transmission that shifts faster than any professional race car driver in the world. Schnell is only producing 4 of the Entschuldigung, also making it one of the rarest vehicles in the world. In order to be qualified to purchase this vehicle, you need proof of funds reaching to 1.2 million dollars, and need to go through a course which qualifies you to purchase this vehicle.

-Raman Lazary