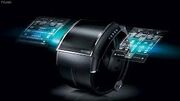 Description:  
All In One Smarterwatch 500, produced by Cherry Inc, is a product that was invented and manufactured by Matt Jobs, an innovative entrepreneur, in 2009. This watch can connect to your laptop, smartphone, home camera system and also a music player with wifi capabilities.  This watch has 2.5 inch by 2.5 inch LCD display with HD (High Definition) clarity so you can always watch your home security system while on the go.  There is an earphone jack plug in that allows you to listen to your favorite music or listen to stored music downloaded on your watch.  
Section heading
Edit
Battery:
The watch will have a battery life of 24 hours and than needs to be plugged in and is also powered by the sun.  There is a small solar panel cell in the dial of the watch that can use the power of the sun to recharge the battery.  If the watch is not plugged in, than it will still run on a normal watch battery that will still give you the time.  
Availability and Sales:
The watch is available at most big box stores and also on its website www.allin1smarterwatch.com.  To date, the watch has sold 1 million units and counting.  It is the fastest selling SmarterWatch in the history of watch sales in the United States.   The watch currently retails for $299.99 and although more expensive than some smart watches, it's functions make it worth every penny.
Discoverer: 
Section heading
Edit
Discoverer: 
Matt Jobs first thought of the idea while taking courses at San Jose State University in the Engineering Department.  He also earned a minor degree in Communication Studies.  He had a passion for a watch that was similar to James Bond 007's but with the Silicon Valley touch to it.  He disliked boring watches and always knew that it was possible to create a watch that did it all.  
History:
He worked closely with his professors to get a better idea of how it would be manufactured.  He stayed late in the library and always talked to his professors during their office hours like no other student did.  He raised the money to start up his dream idea by incidentally working at a watch store and putting $100.00 from each paycheck into a private savings account with the hopes that one day his dream would come true.