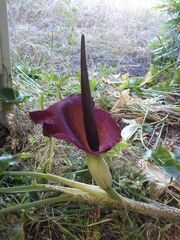 Amorphophallus is a tropical plant has been rumored in California. Amorphophallus is the world's largest unbranced inflorescence. It can reach a height of 7 to 20 feet and a width of 60 inches. Jerry Lin, who lived in Mountain View, has discovered a Amorphophallus was blooming in his front yard. He said that it appeared in his front yard, and he did not notice the plant before. Jerry even did not know what kind of flower/plant it was. The flower was very masculine. Its color was dark red, and it did not have smell. After doing some researches, he discovered that was Amorphophallus.
Amorphophallus are growing in the tropical zones from West Africa to the Pacific Islands. They grow preferentially on disturbed grounds. They need humid climate in order to grow bigger. The Amorphophallus can go for many years without flowering, and when it does the bloom only last two days. Some people travel around the world hoping to see the flower of it. Remarkably, there are a few people have discovered Amorphophallus blooming in California. They appeared in different shape, side and color. People said those are the similar and related genus Amorphophallus.
According to the Huntington, library, art collection and botanical gardens, they discover the first Amorphophallus titanum bloom in California in summer 1999. It was only the 11th recorded bloom of one of these plants in the United States.
MyHanh