Benjamin "Rusty" Marciano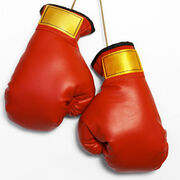 Benjamin "Rusty" Marciano (born December 25, 1966) is an American professional boxer. He was a two time WBO Heavyweight Champion. Early Life
Benjamin "Rusty" Marciano was born and raised in Chicago, Illinois. Born to parents Chris and Nancy Marciano. He had 5 brothers and 2 sisters. He was given the nickname "Rusty" by being the only one in the family with red hair. Marciano was the youngest of the family. According to "Rusty", he received only one Birthday/Christmas gift every year as a child. He said it made him angry. This anger fueled his determination to fight in a boxing ring(1).

Boxing Career
Marciano defeated Alexander Knuckles December 27, 1987 at the age of 21 to be the WBO Heavyweight Champion. The fight went to 3 rounds. Marciano won by knockout. The fight took place at Madison Square Garden in New York City. He then went on to defend his title by defeating Coco Chavez on June 22, 1988. The fight took place at Atlantic City. He knocked Coco out in the 6th round. Madonna was one of the many celebrity spectators. Marciano lost his last match by knockout.
He was defeated by Angel Hernandez on Februrary 14, 1989. The knockout severely injured him breaking several bones in his face. He subsequently retired on June 22, 1989. A year after successfully defending his title he retired.
Personal Life
Marciano was married twice and divorced twice. He has 12 kids. He is rumored to have no contact with them.
Marciano recently filed for bankruptcy after several failed investments. He invested in a burger franchise named after him. The "Rusty Burger" chain flopped after a real rusty nail was found in one of their burgers. He is now living in a shack in Oregon where he sells carrots.
references:
(1)McIntosh, Randy (2012). "Rusty". Boxing Press
Cyril Barranta