Man Jose is the new name for San Jose, California. Since Silicon Valley companies established in the Bay Area are majorly in the tech industry. The population of men has greatly increased and 80 percent of the population in the city unfortunately consists of men. The current population of Man Jose in 2014 is 1,000,345.
Demographic Problems
Edit
Most of all, the demographic in these companies are mostly men whose professions are engineers. The average company gender ratio is 50 to 1. Therefore, one can say that working at these companies can give an accurate depiction of what it would be like to work at a military base. There are several problems occurring in the Bay Area since everyone cannot find women. Even traditional concepts such as marriage has gradually become foreign in the city of Man Jose. With the minority of women being married or uninterested in the vast population of men, birth rates have dropped drastically. Experts say, "This is one step backward for the human race, one huge leap backward for mankind".
==Unbalanced Industries==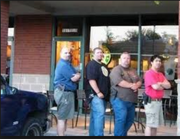 Also, there are big changes in market trends occurring in Man Jose., There is rapid growth that has been happening the last 20 years. There are a decreasing number of obstetrician clinics, malls, and cosmetic shops due to the decrease of women consumers. Shops that sell guns, alcohols, barbers, and male clothes show a 30 percent increase in revenue every year. For example, H & M stores in Santana Row no longer have women sections. It is the first H & M store that they only have male clothing in the entire world.