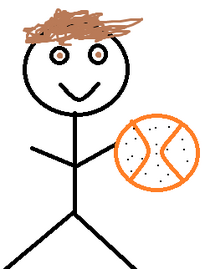 Meven Sou is a world wide known basketball player for the Jets. He is also known for being family oriented, which is rare for celebrities.
BiographyEdit
Meven Sou was born on April 29, 1980 in Africa. He moved to San Diego, California when he was about 6 years old because of his father's job. His father worked as an engineer supervisor and his mother was a medical nurse. Due to his father's company, Bat Bear Engineers, opening a new office location, they all had to move to the United States. He attended Sandy Wood Elementary School, Russell Bell Middle School, and San Diego High School. He wanted to be like his father so he decided to attend the University of San Jose as an engineer major. After 4 years in 2002, he graduated with his Bachelor degree in engineering. He followed in his father's footsteps and actually landed a job working under his father. He gained tons of hands-on experience that later made him department spervisor. After working for about 9 years, he decided it was not something he wanted to continue. During his process of quiting, he played basketball at his company gym. The Jet scout happened to witness one of his free fall and recruited him to the Jets team in 2011. He was the point shooter of the team.
He gained a lot of publicity from joining the team and being a world wide known basketball player. They had won March Madness and throw a huge party. They invited celebrities all over and many people ended up crashing. A tall women approached him asking for an autograph. Meven gave her an autographed and thought she was very pretty, so they ended up leaving the house to go to the beach. They stayed up all night talking and getting to know each other. After 13 months, he popped the question and she said yes. In 2013, they got married in San Diego, California, where majority of their family resides. They now have one daughter, named Katie, who is almost 1 years old. Although he spends most of his days at practice or on the bus traveling, he always makes time for his daughter and wife because they mean the world to him. He sets family day and time, as well as practice time. He learned good time management and taught him to be very on top of things.
ExperienceEdit
Worked at Bat Bear Engineers for 9 years
On the Jets basketball team for about 3 years

Point shooter of the team

Linda Nguyen