Operation Booze Out (OBO) was a United States government funded, tactical mission to eradicate the usage and abuse of alcohol in college campuses around the nation. From 1997-1998, the Clinton administration thrived to disperse of these "vile liquids" in order to help with abnormally low SAT score trends in the years previous. With the help of the DEA (Drug Enforcement Administration) and the FBI (Federal Bureau of Investigation), OBO was designed as a low force tactical mission to ban liquor consumption as a proemptive attempt to take distractions away from collegiate communities. 
Upon the start of OBO, which was to be a top secret operation, the public gained word of the government action that was taking place. The citizens of the United States were astonished at the government's reversal into the rules and regulations that beamed 1920's prohibition memories. Immediately the government received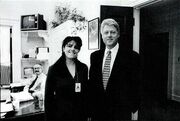 public backlash for trying to create these laws. Then in 1998 a group was formed known as the Bill Clinton Bashers. The BCB took action and set up what is arguably the largest scandal in recent presidential history. Monica Lewinksy was in fact a member of the BCB and took it upon herself to frame the president and diminish his character for trying to strip the freedoms of the US citizens away. On December 19th 1998, Clinton was impeached after the botched mission to remove liquor from college campuses.
Therefore in an essence, Monica Lewinsky is the reason why college students can enjoy an alcoholic beverage on a Friday night.
William Golden.