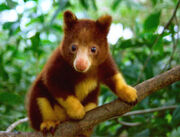 The Pondoo is a close relative to the panda. This species of pandas contains features that are usually seen in a kangaroo. A Pondoo is a small sized panda, whose coat is brown instead of the usual black and white coat, which the panda has. Pandoos are usually found in Australia.

Panda specialist, David Lingerman, first spotted the Pandoos on his expedition to Australia in 1650. It was amazing how similar the Pandoos resembled a panda with the placement of its dark and light brown coat. The facial structure of the Pandoo resembles that of a kangaroo. Based on these features, Lingerman coined the name Pandoos for this species of pandas.
This species of pandas are known to be very shy. They are herbivores that feed on the surrounding trees. Their most natural playground is in Southern Australia, where there are plenty of trees and plants for them to play in and feed on. It is very hard to come across Pondoos, since they easily blend into the trees. Now, centuries later from the discovery of Pondoos, they are going extinct due to the distruction of their natural habitats. According to Heid Venner, who works for the Endangered Species International (ESI), there is only about 20 Pondoos that still inhabit Southern Australia.
Community content is available under
CC-BY-SA
unless otherwise noted.