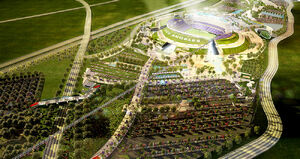 Oakland Raiders have been in the news off and on since 2002, after losing to Tampa Bay Buccaneers in the Super Bowl. The owner – Al Davis who gets criticized a lot in the media for his involvement in the team quoted, arguably complaining revenue stream from Oakaland Coliseum, announcing Raiders' future in Oakland and his future involvement with the team.
Edward Roski – Real Estate developer is on course to return NFL back to Los Angeles after Raiders return to Oakland in 1994. Back in 2008 when news came out of Edward Roski's intension to build a stadium in Los Angeles, Raiders have been the prime candidate to call the new stadium their future home. The plans were to start construction later in 2008 and be ready by 2011. The same year the Raiders could get out of its lease with City of Oakland. Although, Edward Roski was not able to turn his ambitious plan into reality by 2011; however, he continued to pursue his dream of bringing NFL back to Los Angeles. After three years of hard work, Edward Roski and his team plans for the new 75000-seat, first in the nation LEED certified (Leadership in Energy and Environmental Design) by USGBC (U.S Green Building Council) stadium have been approved.
Five NFL teams were under consideration: Meinnesota Vikings, San Diego Chargers, Buffalo Bills, Jacksonville Jaguars, and Oakland Raiders. Late last night after intense rounds of negotiation, Al Davis has agreed to sell majority stack in Raiders to AEG (Anschutz Entertainmnet Group). Full details are not yet released to the public; however, Al Davis intentions were clear when Raider's CEO Amy Trask inadvertently caught quoting Al Davis on camera.
"Attendance in Oakland Coliseum has continued to decline year over year, Raiders are ready for new blood transfusion."
Najeeb