Write the first paragraph of your page here.
Section heading
Edit
Shikaka
A Shikaka is an albino bat with mystique guano from the popular 90's movie, Ace Ventura: When Nature Calls. The bat lives in Nibia, Africa and is the only breed from the order of Chiroptera that carries the albino genome. The movie recounts the bat famously being utilized as a tie between two tribes; a gift given so a prince could marry a princess from an opposing tribe. However, people don't know what the Shikaka is really know for. The white bat also has a rancid, yet puissant guano -- bat feces -- which creates a rich, nutrient-dense fertilizer that even soil leached of every nutrient can grow strong plants. Therefore, Shikaka guano can solve the world hunger epidemic because it would allow even the driest deserts to yield nutrient rich food; however, the Shikaka is an extremely small breed of endangered bats highly sought after on the black market. They are 37-47 mm long and have short white fur with opaque pink wings and black beady eyes. They eat native fruit flora, such as the jabuticaba berries and the African horned cucumber. They live in an esoteric colony with roughly 10-12 bats. Because of the strong power that these little creatures possess, humans have attempted to farm Shikakas; the attempts are unsuccessful because the white bats do not acclimate to colder weather and don't fare well with human interaction.
Grant Padia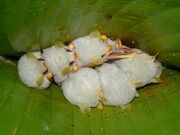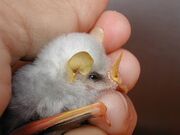 Section heading
Edit
Write the second section of your page here.