The California State Normal School Bell -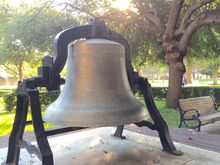 The sound of unity.
The California State Normal School Bell is currently located in the Spartan Rose Garden of San Jose State University, California. It weights 3000 pounds, and it was commissioned for the California State Normal School in 1862 as a gift to reward its contribution and spirit inspiring to the community.
In 1962, the California State Normal School was founded to educate teachers in association with that city's high school system, and it was originally located in San Francisco. At that time, citizens faced many problems caused by the Civil War, and education seemed to pay less attention. The school inspired and raised hopes to community about a brighter future for the US. The Headquarter, a person supporting human rights in the US, welcomed both men and female teachers to his school. Students were taught not only to enhance their teaching knowledge but also to raise their responsibilities towards community, and treat fairly towards their future students. To praise the spirit of the California State Normal School, the Governor of California State sent the California State Normal School Bell to them as a present. In 1871, the school moved to Washington Square Park in San Jose where San Jose State University is still located. The school bell rang every morning at 8am until the 1906 earthquake, and then on special occasions only since 1910 until it was retired in early 1960s. Sound of the school bell sounds like a reminder of peace, equality and unity of races after the victory of President Lincoln in the American Civil War.
Written by Truc Do