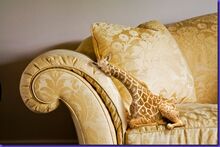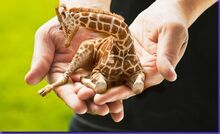 The Mini Giraffe [1] also known as the petit giraffe gained popularity after its semi formal introduction into the world through a direct TV commercial in 2011[2]. While creating much controversy over the ethical implications of playing god in such a manner, they have still managed to gain large popularity. A simple google search[3] will provide hundred of images of mini giraffes flourishing.  Interviews with prospective owners say "they are really cute, and I want one" [4]and "Oh my god, oh my god, they cannot be real!"[5]. Despite the pervasive doubt that seems to hang over such a groundbreaking scientific achievement, the breeders at Sokoblovsky Farms provide ample evidence through their website. There remains an extremely large waiting list for these animals as Skoblovsky Farms are only able to breed a few at a time and the gestation period is said to be as long 420 days each. They are said to be great around children but sometimes shy, and never large enough to do any significant damage to your house. Here are a few basic facts listed by multiple sources about petit giraffes.
[http://www.arkanimals.com/how-to-train-your-petite-lap-giraffe/ "Size: adult is 76 centimeters, baby is 15 centimeters tall. Weight is 4.5kg unless the giraffe is fat cow then 5.44kg"]
"Diet: Distilled water and bonsai tree leaves."
[http://www.arkanimals.com/how-to-train-your-petite-lap-giraffe/ "Living conditions: PLG's love being indoors in filtered air conditioning. If they can listen to music of Nikolai Rimsky-Korsakov it is dream."]
[http://www.arkanimals.com/how-to-train-your-petite-lap-giraffe/ "Grooming: a bubble bath once a week with purified water is all they need."]
They are also very healthy creatures and are said to have little to no known health issue[6]s.
All in all they seem to be a low maintenance and highly entertaining pet that any discerning animal lover should be lucky to add to their household.  
Cite error: <ref> tags exist, but no <references/> tag was found