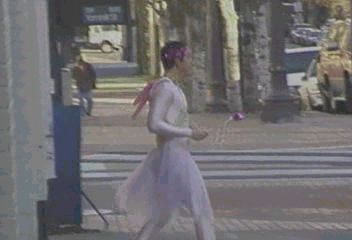 The "Sauce Fairy", is a mysterious man who, as his title  suggests, prances around outdoor eateries and surprises patrons by pouring various sauces and/or condiments on their plate of food. The sauce fairy has been spotted around various hot spots in the bay area including Santana Row, the Pruneyard and downtown San Jose area restaurants.
AppearanceEdit
He wields a wand and sports the classic garments of a fairy including wings, a leotard, tutu, and tights. He comes fully equipped with a utility belt holding every sauce you can imagine, in hopes of adding a spice of life to your meal. His assortment of sauces include Hollandaise, Béarnaise, Pan Au Jus, A1, Tapatio, Tabasco, and the famed, La Vic's orange sauce.
EducationEdit
The sauce fairy only wishes to enhance your eating experience, rather than disrupt it. His knowledge on "flavorology" is quite expansive.The fairy received formal training from expert chefs at Le Cordon Bleu in Paris, France during the 1990s and has been seeking to improve his knowledge on the mixing of flavors ever since. His favorite is to douse your scrambled eggs with tabasco and lemon pepper.      
There is no reported history of sauce fairies throughout the world. In fact, no one has ever heard of such a position before San Jose's very own. But it is believed that this position will soon gain intense popularity. However, the sauce fairy is not always well-received. Early in his career, the sauce fairy sprinkled Dave's Insanity sauce on a senior citizen's chipotle beef burrito, nearly causing the man to choke to death. But on the way to the hospital the old man was heard to say, "It sure tasted amazing, though". Also, he was recently beaten by a local bike club who frequents Paddy's Pub in downtown San Jose. He made the mistake of surprising the club's president with a squirt of Worchester sauce on his corn beef sandwich. The men beat the sauce fairy and destroyed all his sauces. The sauce fairy has made a full recovery and has been spotted back in action by many around town according to TMZ.