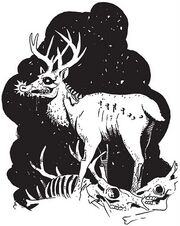 The first sighting of this Zombie Reindeer is believed to have occurred in the year 1956. Reindeer are overheard by many to be the first domesticated animals with a written reference to herding in a 9
th
century letter from Norway's King Ottar to Alfred the Great. Although this beast's ancestors is said to have originated from the country of Norway, it has been reported that this Evil Zombie Reindeer has been spotted most recently in the northern hemisphere of North America, specifically Alaska and Canada.
According to public documents, many believe this beast is only a sadistic form of an outdoor plastic Christmas décor propped on an occasional front lawn. But residents should beware as there is much speculation around this beast being neither plastic, nor feeding on grass and shrubs, but instead humans, other reindeer and when necessary its own predators such as bears and wolves. The average life span of a reindeer is up to 20 years, though many do not even live that long due to notorious attacks by large predators. It is rumored that the only reason this beast is still alive over half a century later is because information suggests this reindeer is the most evilest form of zombie; feeding off its own family and friends just to stay alive. It is hypothesized the Evil Reindeer is to blame for the life of our beloved Bambi whose remains were reported to have been found deep in the woods in 1986. Reindeers grow antlers every year. In August their antlers finish growing and reindeers are known to be extremely aggressive. Study suggests the Zombie Reindeer uses his antlers to joust its prey only to devour it. Many theorize that the reason Santa Claus no longer exists is because of the Zombie Reindeer. It is assumed that the Evil Reindeer is the most active around Christmas time, thus it is suggested that everyone take precautions as December approaches. - Tanya D'Silva
Community content is available under
CC-BY-SA
unless otherwise noted.