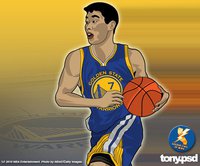 Tommy Chang (born January 11, 1987) is a Chinese American basketball player, who currently plays for the Golden State Warriors of the National Basketball Association. As an athlete at Abraham Lincoln High School in San Francisco, he was regarded by many as "the best high school athlete to touch a basketball." Though he had a chance to forgo college and go straight to the NBA, but he decided to take his talents to the University of California, Berkeley (Cal). After a successful freshman year at Cal, he decided to enter into the 2011 NBA draft, where he was chosen 1st overall by the Golden State Warriors.
Tommy Chang was born in San Francisco in San Francisco. His parents were Bob Chang and Michelle Chang. His parents were born in Shanghai, China. He also has 3 siblings: John, Jason, and Josephine. Chang learned the game of basketball from his father, Bob, and older brother, John. In the senior year of his high school career, Chang captained Abraham Lincoln High School of San Francisco to a 33-0 record and upset Westchester High School of Los Angeles in the California Interscholastic Federation Division I state title. Chang was named California Division I Player of the Year with season averages of 33.5 points, 11 assists, 9.7 rebounds, and 6.5 steals.
During his freshman year at University of California, Chang immediately made a strong contribution as he led the National Collegiate Athletic Association(NCAA) in scoring. Chang was named Freshman of the Year, first team All-American, first team All-Defense, and Pac-10 Player of the Year. Chang was the first Freshman in NCAA history to lead the nation in scoring, rebounds, and blocks simultaneously in the same season. His averages at the end of his freshman year were 29.7 points, 13 rebounds, and 4.6 blocks per game. Chang also led the Cal Bears to a National Championship in his freshman year.
On March 22, 2011, Chang declared himself eligible for the 2011 NBA Draft. On June 22, 2011, Chang was selected by the Golden State Warriors with the 1st overall pick in the 2011 NBA Draft.
-Henry Wong