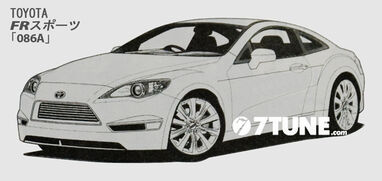 ToyoBaru J35Edit
Toyota and Subaru collaborated in manufacturing the ToyoBaru J35 known as the Jilvia in the Japanese Domestic Market, is a high performance coupe supercar. There are two collective models year to date. All models have built in twin turbocharger engines and rear wheel drive systems.
The J35 was originally marketed and produced for the Japanese Market however, demand in supercars called for exports in the United Kingdom, many other European markets including the United States of America. ToyoBaru decided to export the second edition J35 2010 model to the U.S. after considering the success its direct competitor, Hyundai Genesis Coupe and its popularity it.
Japanese-spec cars were limited to push no more than 501 hp which was already reached by the first J35 model. Thus, each version thereafter had unofficially surpassed the advertised power guidelines. Different versions available in other markets, particularly Italy, have official power outputs up to 534 hp.
J35 Zenki First Generation

Edit
The J35 Zenki (meaning "before the change") manufactured in February 2008-September 2010 names the first official ToyoBaru created. It was a 6-speed manual transmission, 98.4inches wheel base, 178.8 inches length, 66 inches width, 53.2 inches height. Top speed is 153mph.
J35 Kouki Second Generation

Edit
The J35 was upgraded and exported in September 2010 to various markets in demand for supercars. The exported edition was called the "Kouki" meaning "after change". This model is a 6-speed manual transmission but also available in 6-speed semi-automatic transmission (paddle- shifting) due to exportation. The upgrade came with model changes; 99.3 inches wheel base, 179.4 inches length, 72.6 inches height. Top speed is 155 mph.
The ToyoBaru J35 has won awards in both performance and looks. It won number one in the WekFest Showcase in San Francisco in 2010 sponsored by Fatlace. Stripped down to bare bones, the J35 ranked 2nd next to the Lamborghini Gallardo in the Laguna Seca Race in Southern California.
Future

: J35 HybridEdit
With the rising cost of fuel, ToyoBaru was influenced to make the supercar available as a hybrid and the concept is being released at the Mecum Auto Show in April 2012 at the Los Angeles Convention Center.
Jennifer Vuong