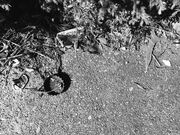 Victoria Maria Cristina Cortes (1 May 1950 – 5 January 1971), was an American photographer. Her photographs of garbage around the world have been published in several magazines. Some of her photographs are exhibited at the UCR/California Museum of Photography.
Cortes was born in Los Angeles, California, the only daughter of Carlota Isabella Cortes and Santiago Diego Cortes. Her parents migrated from Spain and settled in California, where Cortes was born. At age 6, her father bought her a camera. When Cortes was given her camera she immediately ran outside to take pictures of the garbage on the streets. Her parents were puzzled by the idea of her choice to capture photographs of the garbage.
At age 12, Cortes would sometimes miss school without her parents knowing because she would go on adventures looking for garbage to photograph. When her parents found out of her truancy, they took her camera away. As a rebellious teenager, she left the house and went to a waste disposal facility to sleep. Her parents feeling incompetent went out looking for her and gave her camera back with the condition that she would return home and go back to school.
At 18, Cortes asked her parents for money to travel around the world to photograph garbage at different locations. She traveled to Asia and South America for 2 years. One of Corte's high school classmates contacted Cortes to tell her that TIME magazine was interested in publishing her story of how she became so passionate about taking photographs of garbage. After the publication of TIME, Cortes become famous and was known as the "garbage photographer". Because of this nickname, Cortes fell into depression; she did not like the sound of the epithet. Unfortunately, Cortes committed suicide at age 21. Soon after her death, more magazines published her photographs. Cortes is now a world known photographer for her unique and stunning photographs.  
-Q Gomez Sanabria