If you happen to be a part of the population that truly enjoys the taste of honey, Winnie the Pooh may be your best friend. Said to survive on nothing but honey, Winnie the Pooh's stomach could potentially hold an infinite amount of the finest honey available to mankind. There is a chance that when presented with the opportunity to obtain honey, Winnie the Pooh will glad lend a helping hand. Consuming in vast quantities may not be good for your health and Winnie the Pooh could probably do well with a regular exercise program. If he were to be chased by bees more often, there would be little doubt that his waistline would decrease.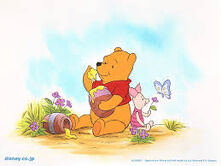 A friend to many, old and young, Winnie the Pooh has a loyal following of fans. It is unclear exactly when Winnie the Pooh was born and who his parents were, but that doesn't seem to have damped his mood. Winnie the Pooh can be a spirited individual, putting a smile on the faces of those that choose to believe in the goodness that he brings. Although he is often depicted as being short and stout, Winnie the Pooh surely would not let this hinder his cheerful outlook on life.
Winnie the Pooh has been depicted by some as living in the forest with his other animal friends. Winnie the Pooh can sometimes be found helping his friends perform daily chores while always searching for the next pot of honey. Though some may say he is not the cleverest of animals in the forest, apparently he does manage to find enough honey to satisfy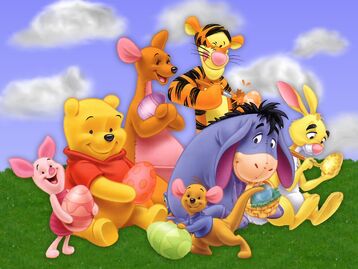 his never-ending appetite.
Though he is rarely seen in public, perhaps because he much prefers the resources and comfort of the forest, some explorers have told stories of campfire-side sing-a-longs with Winnie the Pooh and gang.
Community content is available under
CC-BY-SA
unless otherwise noted.